This is a limited view of one woman's life. In the course of a year, she shed her previous life as Rick, the tie-dye wearing father of five grown children, seminary graduate, Hindu priest and husband. She is now Elena, a name chosen for herself, and a personality she is still refining. She struggles to find her own identity in a sea of stereotypical femininity and a lifetime of male perspective.
Since she has divorced her biggest champion and wife of seven years, she's fallen quickly in and out of love, looking to fill the empty space with companionship and intimacy. At 53 years old, she realizes that as a new woman, she is reliving puberty in a way most take for granted. More than walking in high heels and learning how to apply eye shadow, the struggle for Elena lies in forging a new place for herself in her own life. A different place, where she now feels true to herself.
-----
A styrofoam wig-stand sits on Elena's kitchen table while she shampoos her wig in the sink.
Elena tries to stay awake as her wife, Zing, changes her bandages after her facial feminization surgery.
In June 2008, Elena and Zing watched a movie, Ma Vie en Rose, about a Belgian boy coming to terms with his gender identity. The movie triggered a realization in Elena, and soon after she began the process of physically transforming to match her body to how she felt inside.
"The surgeries were correcting society's misrepresentation of me," Elena explains. "But now I don't have a name for what I am. I just know I'm not a man."
Elena walks up the stairs to her Stockton apartment. She maintains a job as a finance manager in Livermore, attends meetings with the Stonewall Democrats, and frequents city council meetings, hoping to seamlessly transition from her former self to her current self.
"What I'm trying to do is just be true, just be authentic, just be myself," she says. "Even though I lived as a man for 50 years, it doesn't mean I was one. It meant I played the role I was expected to play by society."
Elena brushes out her spare wig in the one-bedroom apartment she shares with her wife, Zing. Since Elena realized she'd "been living a lie" as a man, she has immersed herself in traditional symbols of femininity, from jewelry and makeup to human-hair wigs.
Elena and Zing sleep on a mattress on the floor of their Stockton apartment. In the first year of their seven-year marriage, the couple never spent a night apart, although throughout the following years, business trips and speaking engagements forced them away from each other several times.
Zing helps Elena after her facial feminization surgery (FFS) in San Mateo, Calif. Zing has supported Elena through all parts of her transition, including genital reassignment surgery and FFS. As Zing explained, at first it took her a few days of wrestling with the situation before coming to a conclusion.
"I realized I love her as a person, and I want to be there to support my love down whatever path that takes us," she said.
Elena pulls on her silk underwear in the doctor's office after her first view of her new vagina post-surgery. "It's perfect!" she exclaimed. "I am alive in a body that matches me for the first time ever."
Elena shaves in preparation for genital reassignment surgery as Zing relaxes in their hotel room in Trinidad, Colo. The couple travelled halfway across the country for surgery with the doctor Elena referred to as "the best there is for this kind of thing."
Elena viewed the trip as coming full circle; she was born in Denver, but her birth mother was born in Trinidad. The family that put her up for adoption as a child still lives in the town.
Elena washes the makeup from her eyes in a hotel bathroom in Trinidad, Colo., on the night before her genital reassignment surgery.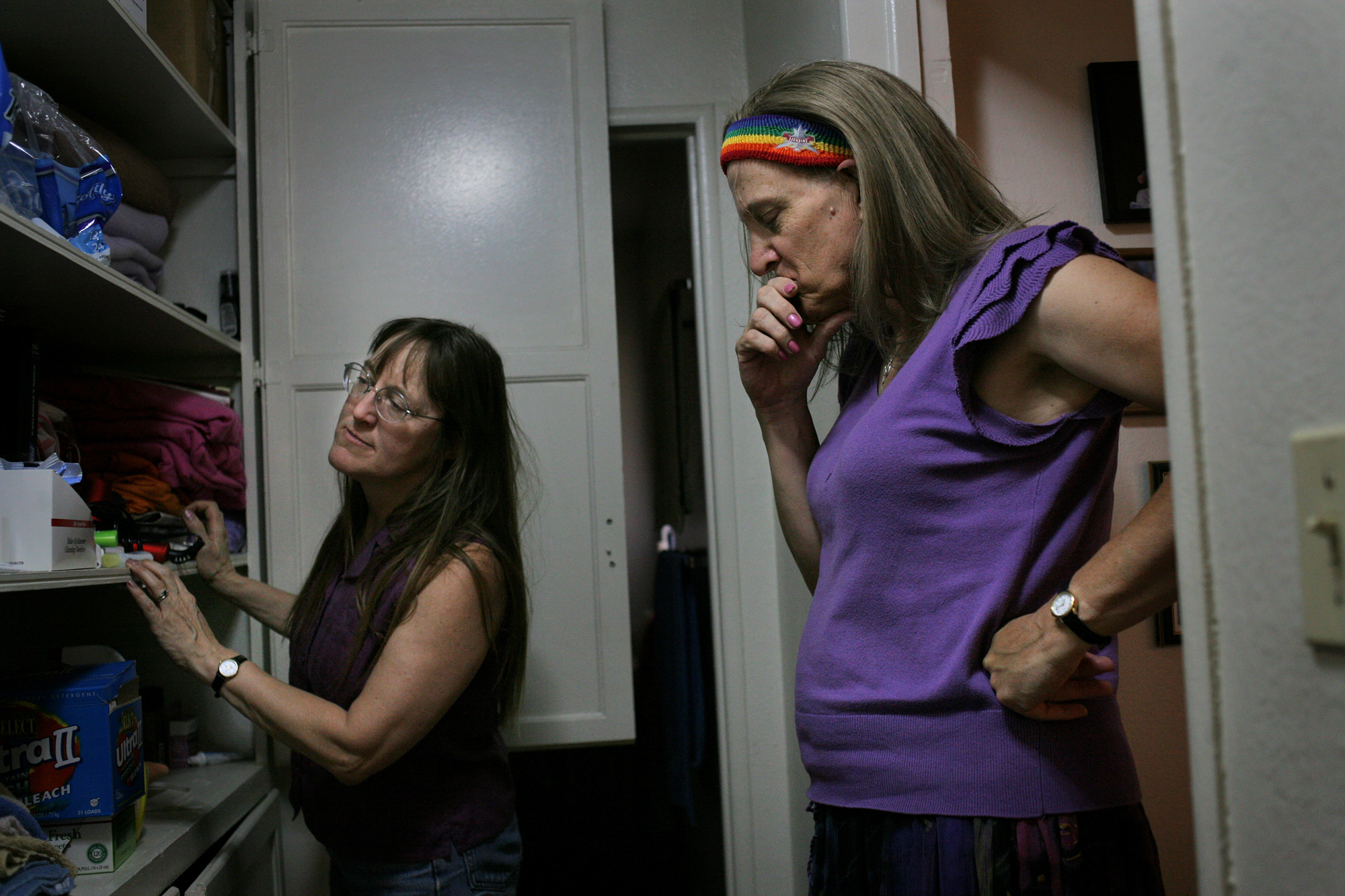 Elena holds back tears as Zing searches for her belongings in a hall cupboard. After healing from her genital reassignment surgery, Elena decided she needs a lover who identifies as a lesbian - just as she does. "I offered it," said Zing, "and each time I offered, I'd say, let's experiment, let's see what it's like, let's explore what each other likes with our bodies... it would be rebuffed or ignored. It was like I wasn't being heard. So what do you do when you're not being heard?"
After days of conversations, Zing chose to move out of their apartment.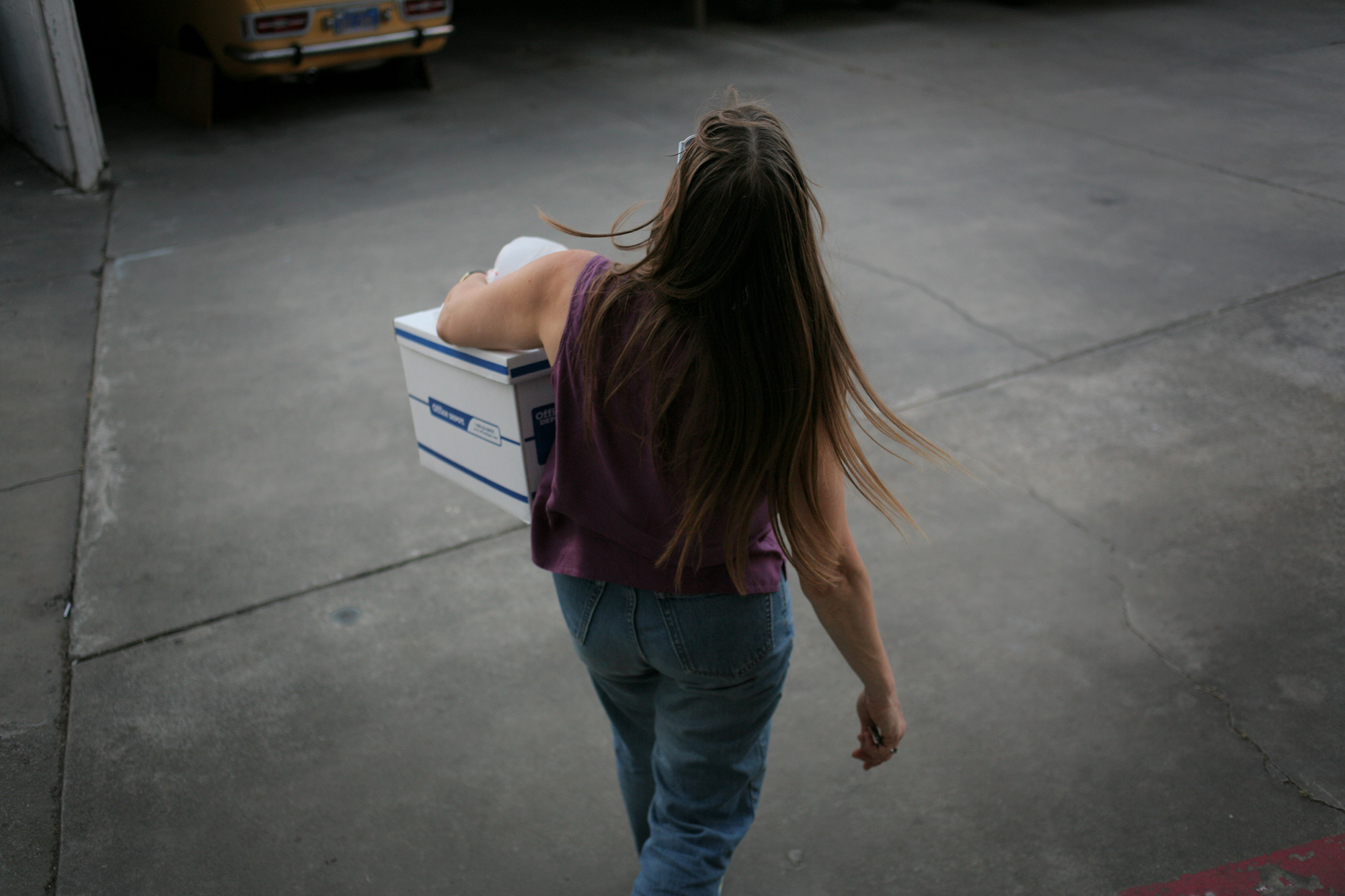 Zing takes the last box of her belongings to her car on move-out day. "I had hoped I would be good enough, loving enough, to keep this relationship going by myself," she said. "But I wasn't."
Zing remains nearby, living with friends until she sorts out a more permanent solution, and regularly meets up with Elena to socialize. "Elena and I have talked and been as honest with each other as possible. We reached a point where we both feel good about what our next step is, which is to separate our marriage path but still be friends."
Elena finishes writing a card to her oldest daughter, Sarah, for her 26th birthday. She sees herself as a woman, but understands she still plays the role of a father in the lives of her children. While in daily life it irks her when others refer to her as "sir" or "mister," she still welcomes the male terminology of "dad."
"I am their father, there's nothing I can do to change that," she says. "There's no reason to change it."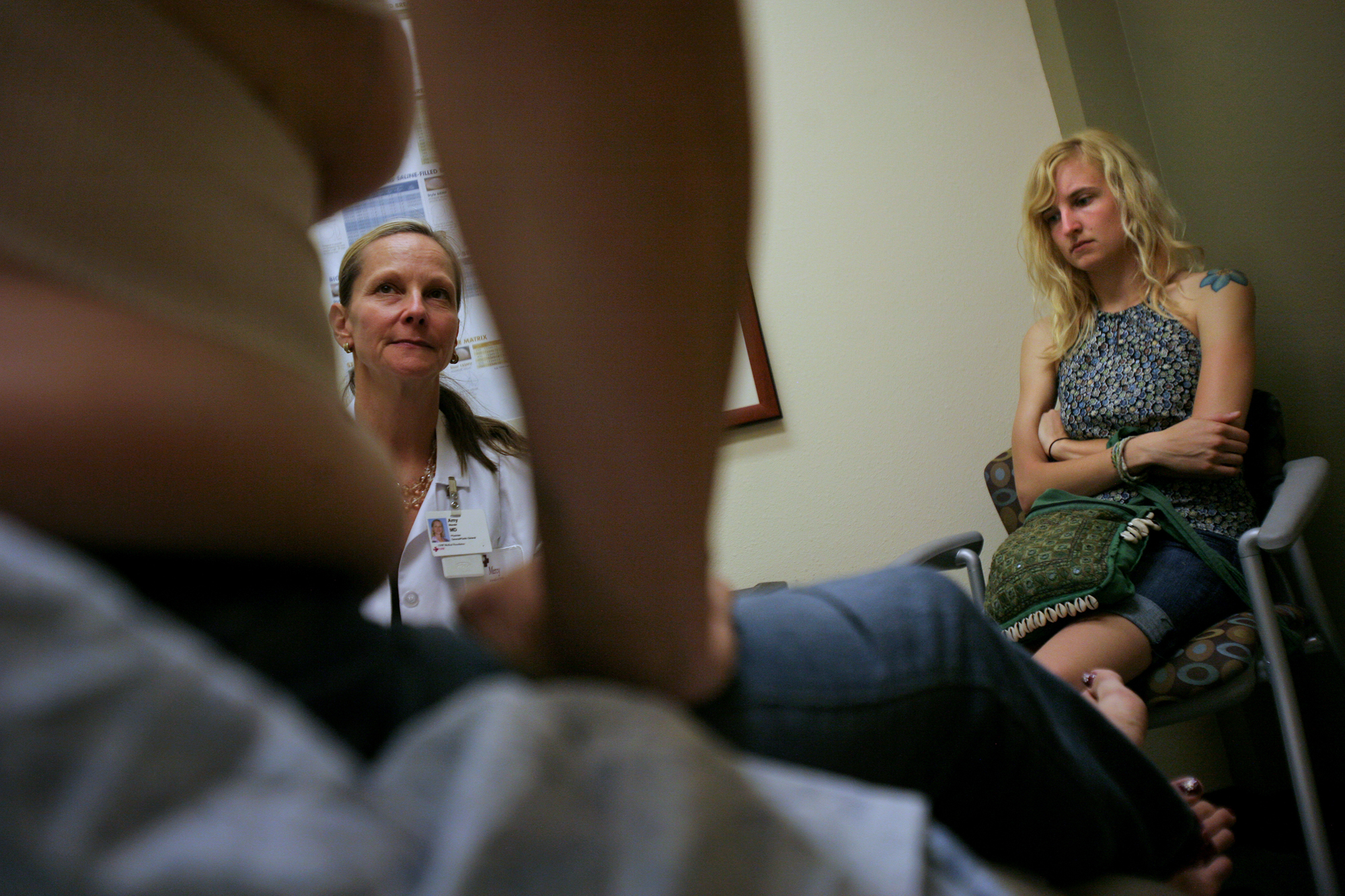 Elena's youngest daughter, Gina, 19, listens as Dr. Amy Wandel consults Elena on her recent breast enhancement surgery. In the first year of her transition, Elena had said she did not want breast surgery, and would be happy to continue wearing breast forms in her bra. Within a month of her wife moving out, she decided she would go through with the third surgery after all. "I'd like to wear low-cut shirts, which you can't do with these forms. And I just want to look more like a woman."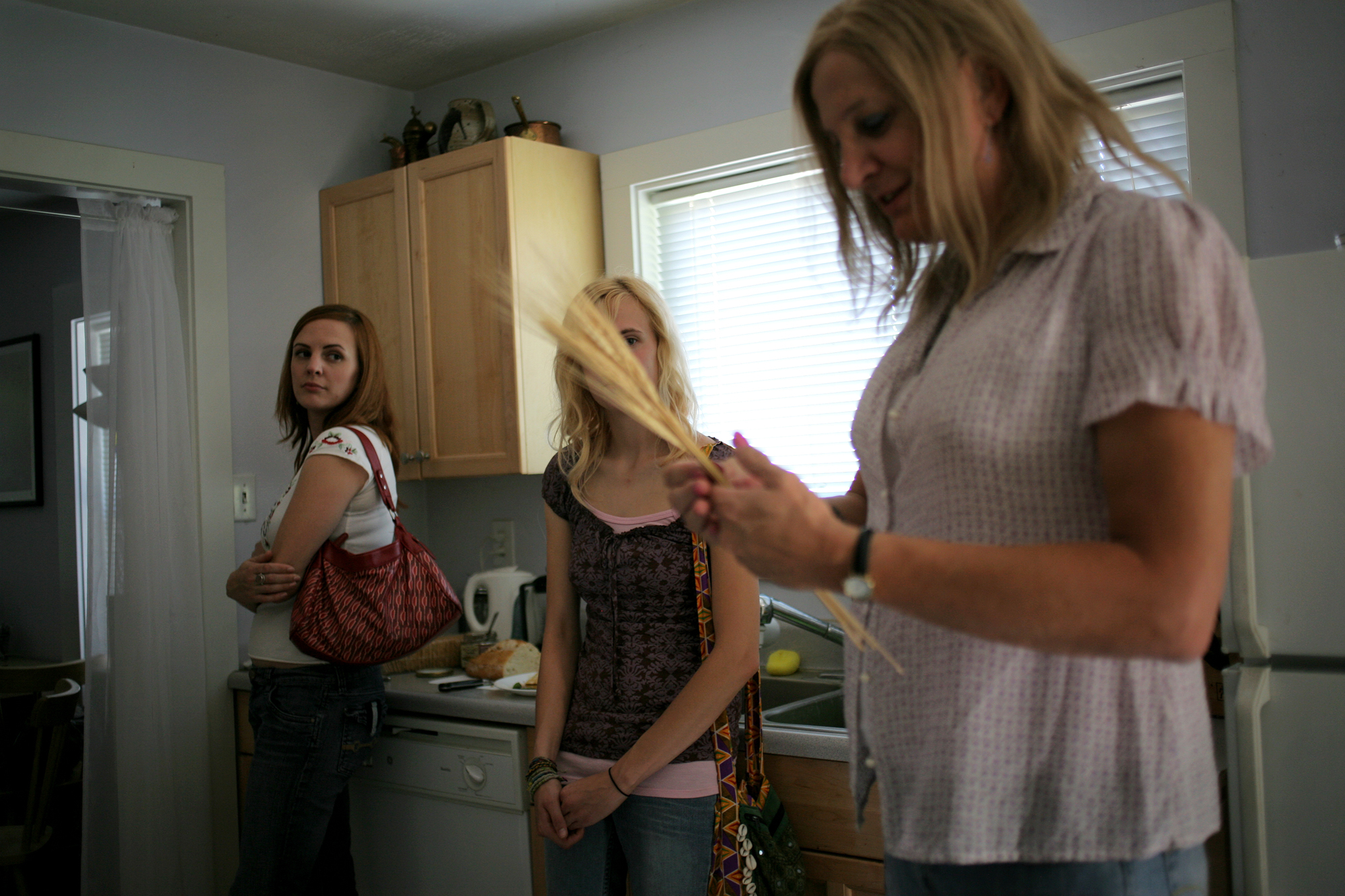 Elena's daughters, Sarah (left) and Gina, accompany her to a friend's house for a spiritual cleansing ritual. Elena is the father of five children, but only the two girls have maintained contact with her throughout her transition. She claims they are the only support she needs, helping her learn to style her hair and shop for clothing appropriate to her gender, and accompanying her on hospital visits and check-ups.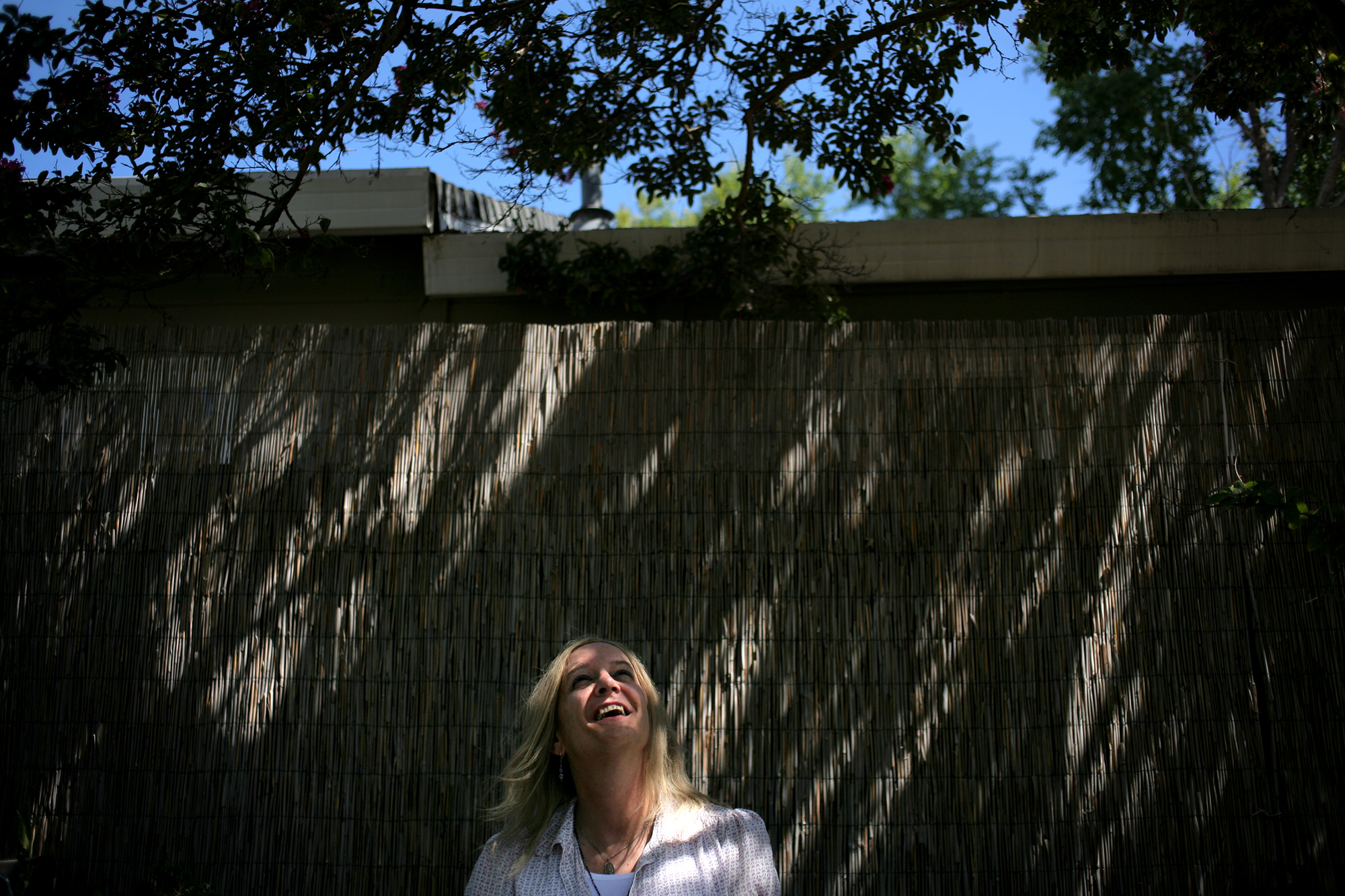 Elena laughs in the backyard of a close friend on a warm autumn day. "My hope was, in the next two or three years, to be where I am now," she said. "And it was in one. In less than one, actually."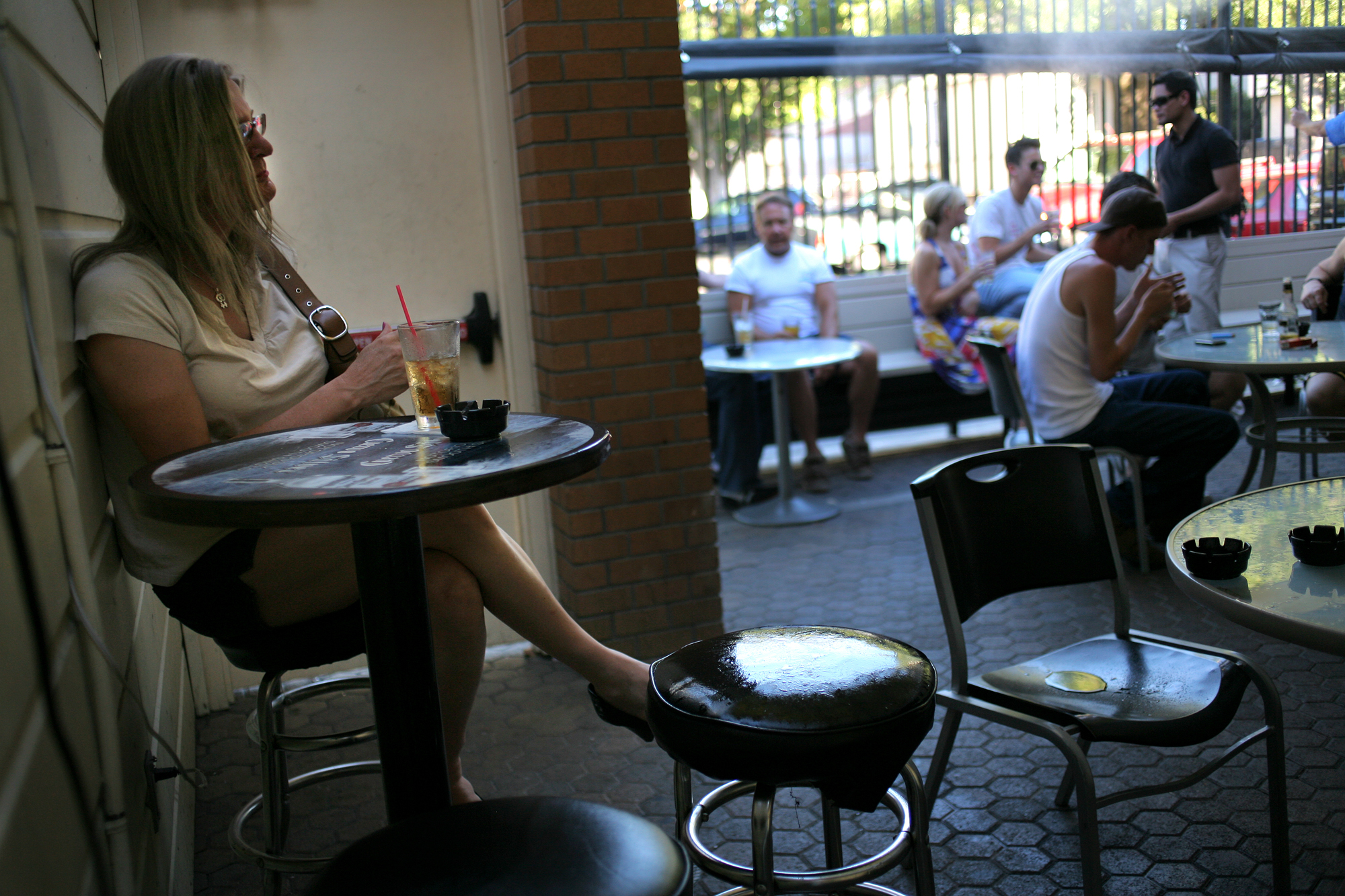 Elena sits alone at a table on the back porch of her favorite gay bar in Sacramento. Since she has plunged into the single life, she finds herself making excuses to drive the 45 minutes north of Stockton in order to socialize, even if it means one or two drinks alone after work.
"I guess probably one of my greatest fears since the surgery - and since the divorce - is, would any woman want to be with me?" she explains. "And now I know, yes, there are women who are happy to be with me, and so now it's just finding the right one, the good match."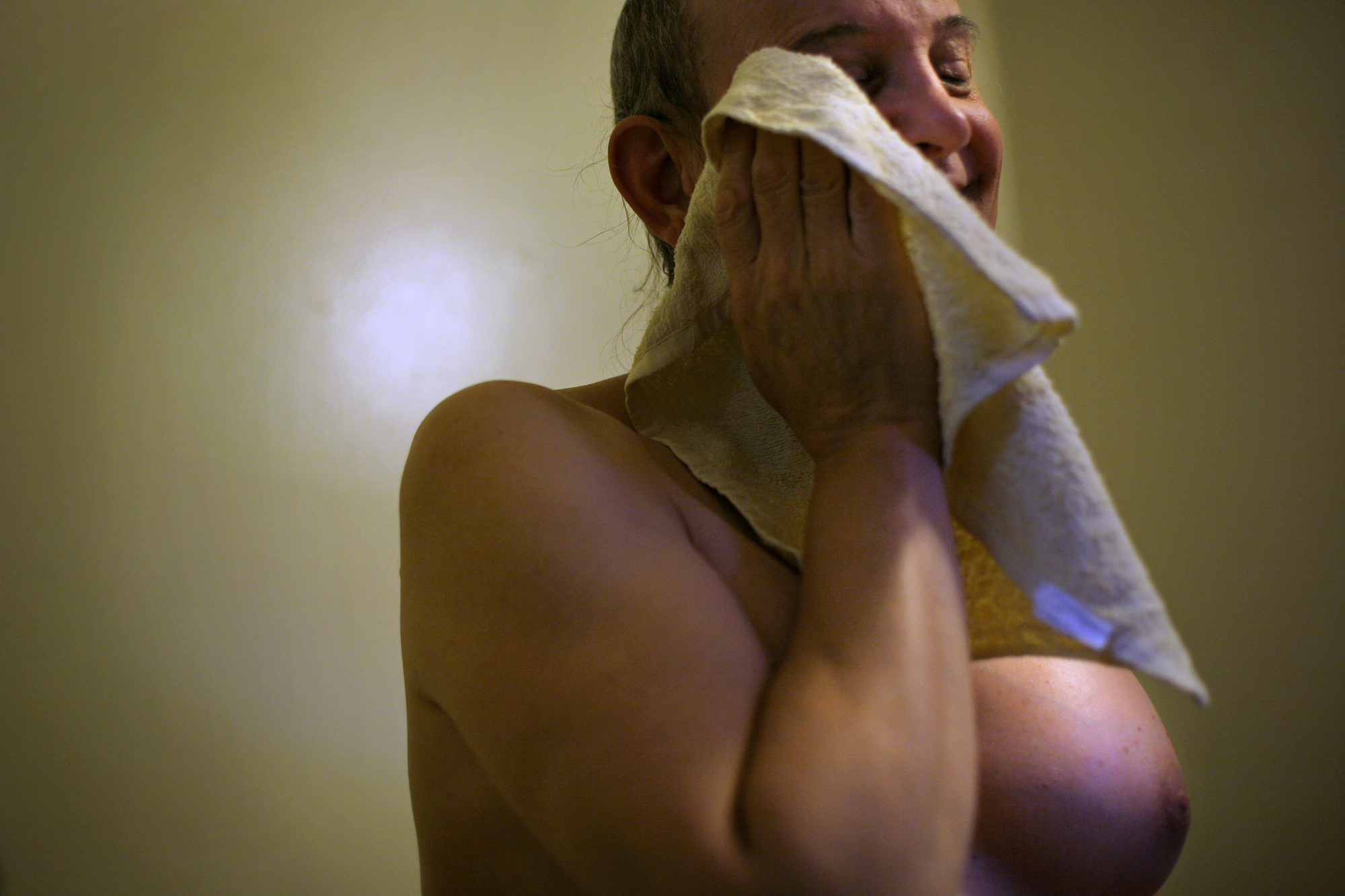 Elena cleans traces of glue from her scalp after removing her wig. After going through several faux-hairstyles, she decided to try a lace wig, which required her to glue the top half of the hairpiece to her scalp and thread the bottom half to her natural hair. She hoped it would give her a more natural feminine appearance and save her the embarrassment of a loose wig.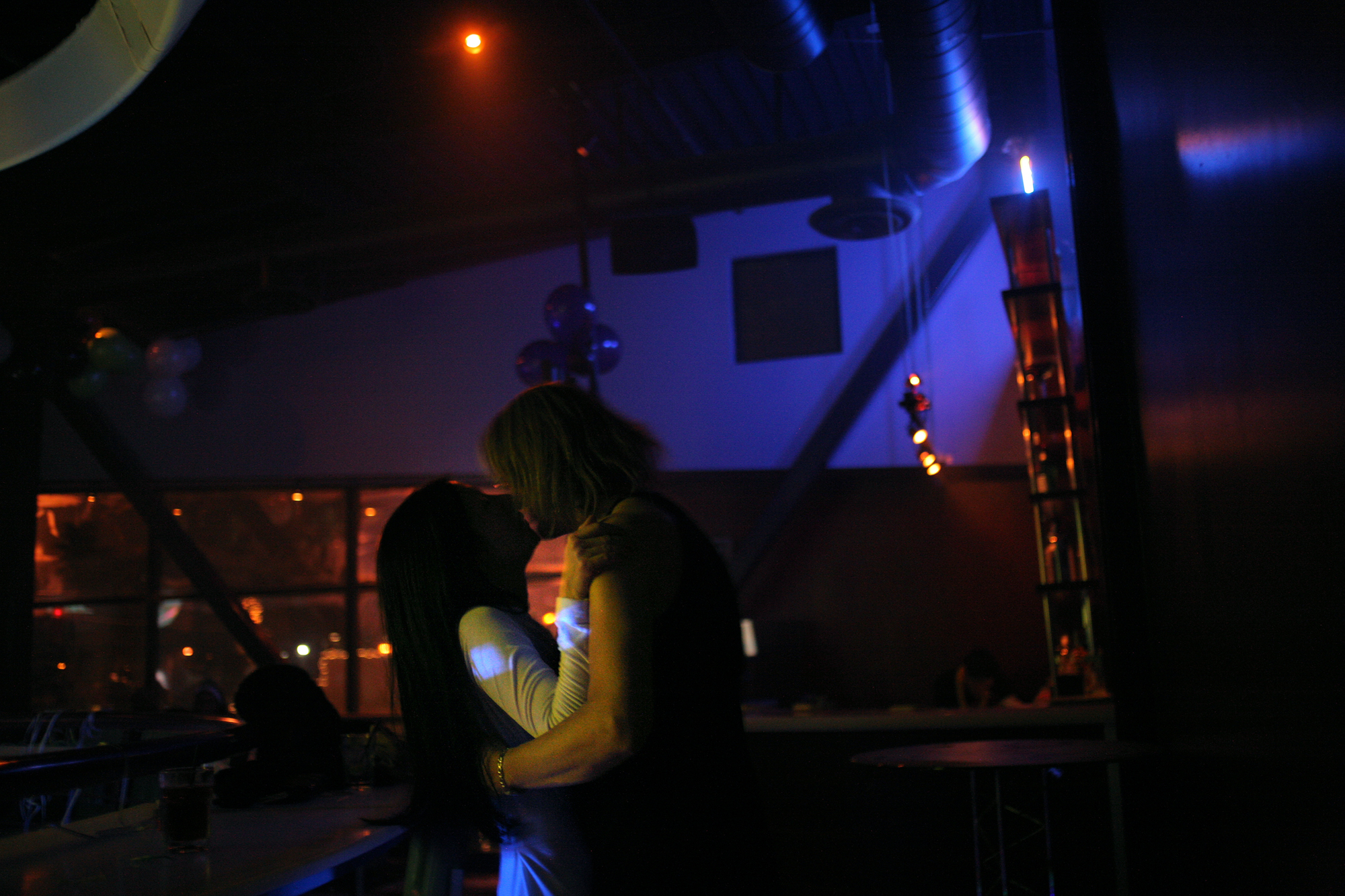 Elena celebrates New Year's with her friend Anna at Faces, a popular gay bar in midtown Sacramento. The two spent the night dancing, drinking, and sometimes kissing in the dark of the club's upper level.
Elena peers out over the view of Trinidad, Colo., during her recovery at the hospital post-surgery. Many people warned her that transitioning from a male to a female will be hard, both physically and emotionally, but she always responds with a big smile. As she explains, the struggles she may face because of her choices are nothing compared to the feeling of freedom to finally be herself.
"I'm overwhelmed every day with the reality of what I'm getting to live right now."